5 Tips for Home Office Productivity

I recently read a great post, 14 Things I DON'T Miss From my Day Job, which made me start thinking about how much I enjoy working out of my home office. However, working from home tends to blur the boundaries between work and personal life — if you work too hard, you will have no personal life left. And, you really need to instill some strong work habits to maintain productivity and reduce procrastination.
So how to stay productive and sane at the same time?  Here are a few tips to get (keep) you on the right track:
1. Define your work space.  Set aside some space, preferably a room (it doesn't have to be big) to be your workspace. That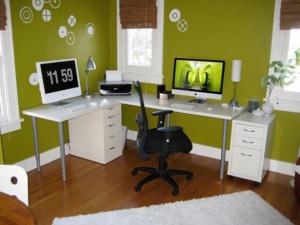 way, when you enter it, your state of mind changes from home to work.
2. Make yourself sit at your desk for the allotted time – There will be times when you haven't got any ideas, or just don't feel productive. Train yourself to do some work anyway. Often, the ideas will start and juices will flow. Have your list of tasks for the day and just jump in – usually getting started is the hardest part!
3. Use your flexiblity to your advantage. If possible, schedule around your natural energy level.  For instance, some people peak in the morning, while others hit their stride late in the afternoon. Utilize your peak times to capitalize on your prime work hours.  I do some of my best blog drafting at 6 am as the coffee is brewing.  Also, use your flexibility to your advantage. Break up your workday with exercise or coffee networking.
4. Set boundaries for those around you. Schedule your work time and make sure your spouse, friends, neighbors, or kids know that you are unavailable for chatting, playing, chores, etc. during this time.
5. Keep a notepad (old school style) or phone handy. Record ideas for blog posts, projects, anything that springs to mind.  I keep a running list of ideas in an email to myself  in my drafts folder. Pin your ideas on a bulletin board or remind yourself on your phone twice a week to see your ideas with fresh eyes. Some of the best work you'll ever do will come from random bits of inspiration.
Most importantly, be grateful you are able to work from home and not in an office cubicle. That gratitude will do wonders for your motivation! What are some of your best tips for productivity in a home office?
addONE Marketing Solutions delivers experienced, marketing staffing solutions to fit any size project or budget.  Filling marketing staffing gaps or providing affordable marketing solutions makes addONE marketing "the smartest addition you will ever make." Atlanta-based and woman owned since 1998. Visit add1marketing.com for more information.