Big players step up on obesity issues
How are you doing with your New Year's resolutions so far? It is hard to stay on track especially if one of your goals was to lose weight. It is a tricky, stubborn issue for adults and children alike. We applaud Coca Cola's pledge to help raise awareness on the obesity issue and take steps to educate consumers on calorie counts and steps to burn calories.  "We've learned that consumers love more information from us — and we really believe Coke has the power to connect people in a way that can help solve issues," Ms. Kronauge said in an article in the New York Times (http://www.nytimes.com/2013/01/15/business/media/coke-tv-ads-confront-obesity-and-sodas-role.html?_r=0.)  Up to one out of every five children in the U. S. is overweight or obese, and this number is continuing to rise. Children whose parents or siblings are overweight may be at an increased risk of becoming overweight themselves, but this is usually linked to shared family behaviors such as eating and activity habits. Children become overweight and obese for a variety of reasons. The most common causes are lack of exercise, unhealthy eating patterns, or a combination of these factors.
Another major player, McDonald's, has voluntarily posted calorie count information on its menus nationwide.  Federal regulation has already been passed that would require 20+ location chains to post calorie counting information, but implementation hasn't been worked out. Rather than wait, the world's largest hamburger purveyor decided to turn posting the calories before everyone else into a competitive advantage. Bet other chains are not far behind but good for the golden arches to blaze the trail.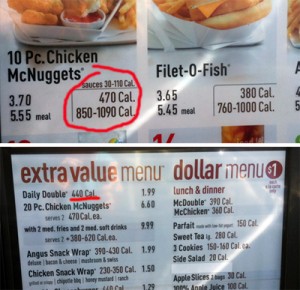 While a healthy lifestyle is ultimately up to each individual, it does help when big companies make food choices and calorie information easier to obtain. Coke's new "obesity" ad campaign is yet another example of their marketing brilliance and ability to market current messages to the public. Marketing can and should be informative, as well as raising brand awareness and increasing the bottom line. Connecting with your customer on a deeper and more meaningful level will always benefit your business.
Good luck staying on track with any and all of your new year's resolutions and connecting with your customers.
addONE Marketing Solutions delivers experienced,  marketing staffing solutions to fit any size project or budget.  Filling marketing staffing gaps or providing affordable marketing solutions makes addONE marketing "the smartest addition you will ever make." Atlanta-based and woman owned since 1998.Visit add1marketing.com for more information.