3 Health Benefits to Women Friendships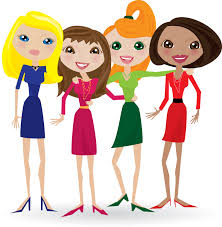 I recently celebrated a 50th birthday for a close girlfriend.  We all toasted our girlfriend but, more importantly, we toasted our long term friendships and how much they mean in our lives. Milestone events tend to trigger reflection and introspection as well as celebration. And truly, a good group of girlfriends cannot be over estimated and as it turns out, those relationships are good for your health too!
While mentors in the workplace certainly have their merit and place, strong support systems outside of the workplace are just as beneficial.  To find women who share interests, passions, careers, humor, wisdom, independence or any other quality that is important to you, creates a circle of trusted and enjoyable confidants.  We all go through seasons — with our kids, caring for aging parents, big projects at work, with different stressors and moods — it is good that we have several people in our lives we can draw from, rather than expect it from one person all the time.  According to happiness and health research, we are happier with several close friends as opposed to one and only. You don't need 600 Facebook friends or a jam-packed social calendar to reap these impressive perks (in fact, both can backfire).
According to a UCLA study, there are strong health benefits to women friendships as well:
Friends reduce stress. The fact that women respond to stress differently than men has significant implications for our health. During stressful times, when a woman engages in her natural tendencies of "tending" to her flock or "befriending" those around her while men tend to retreat into solitude. Studies also suggest that women release more oxytocin during stressful times, which further counters stress and produces a calming effect. This calming response does not occur in men because testosterone—which men produce in high levels when they're under stress—seems to reduce the effects of oxytocin. Estrogen seems to enhance it.
Friends help us live longer. The "tend and befriend" notion developed by doctors may explain why women consistently outlive men. Study after study has found that social ties reduce our risk of disease by lowering blood pressure, heart rate, and cholesterol.
 Friends are also helping us live better. The famed Nurses' Health Study from Harvard Medical School found that the more friends women have, the less likely they were to develop physical impairments as they aged, and the more likely they were to be leading a joyful life. In fact, the results were so significant, the researchers concluded, that not having close friends or confidants was as detrimental to your health as smoking or carrying extra weight.
Been a little stressed out lately? Well, call your girlfriends and catch up. It is just what the doctor ordered!
addONE Marketing Solutions delivers experienced,  marketing staffing solutions to fit any size project or budget.  Filling marketing staffing gaps or providing affordable marketing solutions makes addONE marketing "the smartest addition you will ever make." Atlanta-based and woman owned since 1998. Visit add1marketing.com for more information.