What's Your Word for 2014?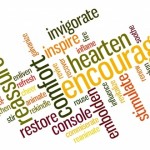 One of our recent family discussions around the dinner table centered on the task of choosing one word to describe yourself. Limited to just one word to represent the whole – what would it be? (Aren't you glad you are not one of our teenagers?!) After much debate, discussion and offered opinions, we all settled on our word. That lead me to think about how to apply this on a broader sense. So, what is your word for the year? This word would apply across the board to your goals, personal, and business life.
I will share my personal mantra for 2014: My word is "intentional." I really want to be intentional in my work life, personal time, parenting and even in free time. I get caught up in my schedule, the never ending to-do list, the lists of daily tasks, weekly tasks and then I forget to step back and analyze some rote items: why do I include the time-suck activities and unnecessary items.   I feel like time is flying by and I cannot alway account for the passage or point to major accomplishments. I want to be mindful of my time, my money, my efforts and my energies.
Another example is in our household budget recap, my husband and I reviewed our spending (always a fun exercise for couples), but we had this black hole of an American Express bill. When paying it every month, I look over the charges, make sure they are legitimate and breakout for expenses. Groan, pay and move on. He said they same thing about compiling monthly reports with investments. He compliled and filed – no scrutinize and discuss. While none of this is fun, we can be much more intentional with our analysis, budgeting and awareness.
"Strive not to be a success, but rather to be of value." –Albert Einstein
So here are some of my tips to living with intention:
1. Simplify – evaluate daily choices that take time and don't add meaning. Are the monthly chamber meeting really meaningful and enriching for you? Do you really have to volunteer to compile the school donation basket? Don't be afraid to say no.
2. Define – set a monthly purpose. By setting parameters each month, the purpose will remain fresher and more centered on your mind. Perhaps January is exercise 3 times a week; February is to meditate daily; March is to travel somewhere new, etc. Consider it an editorial calendar for your intentions!
3. Appreciate – look around you and have gratitude for the life you have. While it is not perfect, there are blessings in each and every day so look for them and really see the goodness surrounding you. If you don't see that, what can you do to change the environment? What positive choices can you make?
Live your life the way you want it – you only get one. So what is your word? Simplify, deliberate, joyful, spiritual, adventurous, authentic? Share!
Our philosophy is to be excellent in both career and life.  addONE Marketing Solutions delivers experienced, marketing staffing solutions to fit any size project or budget.  Filling marketing staffing gaps or providing outsourced marketing departments makes us "the smartest addition you will ever make." Atlanta-based and woman owned since 1998. Visit add1marketing.com for more information